For the first time this year, reigning Supersport World Champion Dominic Egerter (Ten Kate Racing Yamaha) will not start on the front row!
The Swiss pilot did miss this morning's Superpole, losing to a trio of Italians consisting of Lorenzo Baldassari (Evan Bros. WorldSSP Yamaha Team), the new record holder, Federico Caricasula (Althea Racing) and Nikola Buleg (Aruba.it Racing WorldSSP Team), who pushed him from the front row in the closing moments of the session. It just precedes Andy Verdoya (GMT94 Yamaha) and Glenn Van Straalen (EAB Racing Team) who will travel with him.
Adrian Huertas (MTM Kawasaki), Rafael de Rosa (Orelac Racing VerdNatura WorldSSP) and Yari Montella (Kawasaki Puccetti Racing) takes the 3rd row, while you have to go 10th to find Valentin Debizealso one of the losers of the Superpole.
But if the starting grid is one thing, the race is another and it will run for 19 laps, which is more than enough to protect your chances regardless of starting position.
It's 19° and 26° on the ground and it started raining again before the 300, then a few drops again during the Superbike race, but now the track is completely dry.
When the red light goes out… Lorenzo Baldassari starts well but is attacked in the first corner Nikola Buleg.
Immediately behind, the collective fall sends to the ground Dominic Egerter, Andy Verdoia, Federico Caricasula, Rafael de Rosa and Jari Mantellowhich allows Lorenzo Baldassari run away
The race does not stop and we then find Adrian Huertas secondly, ahead Glenn Van Straalen, Kang Onku, Valentin Debize and Nicola Boulego.
Maybe Oncu gets Ride Through some time Valentin Debize takes the best Glenn Van Straalen temporarily occupy the third position.
But Van Straalen don't give up and pressure the Frenchman…
The Dutchman regained the lead with 12 laps to go, and it was then a six-man battle for the podium. Huertas, Van Straalen, Debize, Manzi, Odendaal and Boulego.
Glenn Van Straalen takes the lead of this group ahead Valentin Debize but Stefano Manzi does not hear this and places his Triumph at the head of this group of angry eight circles from the checkered flag.
Not only did our national champion defend himself, but the Yamaha R6 GMT94 quickly found himself in second place in the general classification!
Six laps from flag drop, so far Lorenzo Baldassari jumps in the lead with an advantage of six seconds, Stefano Manzi regained the second place on the podium and tried to break out of the ragtag battle for the last two steps of the podium.
After three rounds Glenn Van Straalen gets the upper hand over the Frenchman and effectively knocks him off the podium, but he reacts and regains the third position in stride.
Approaching the final lap, Stephen Odendall pass Valentin Debize who is no doubt disappointed, but has largely shown that he has his place in the world!
Results of Race 1 Supersport in Most: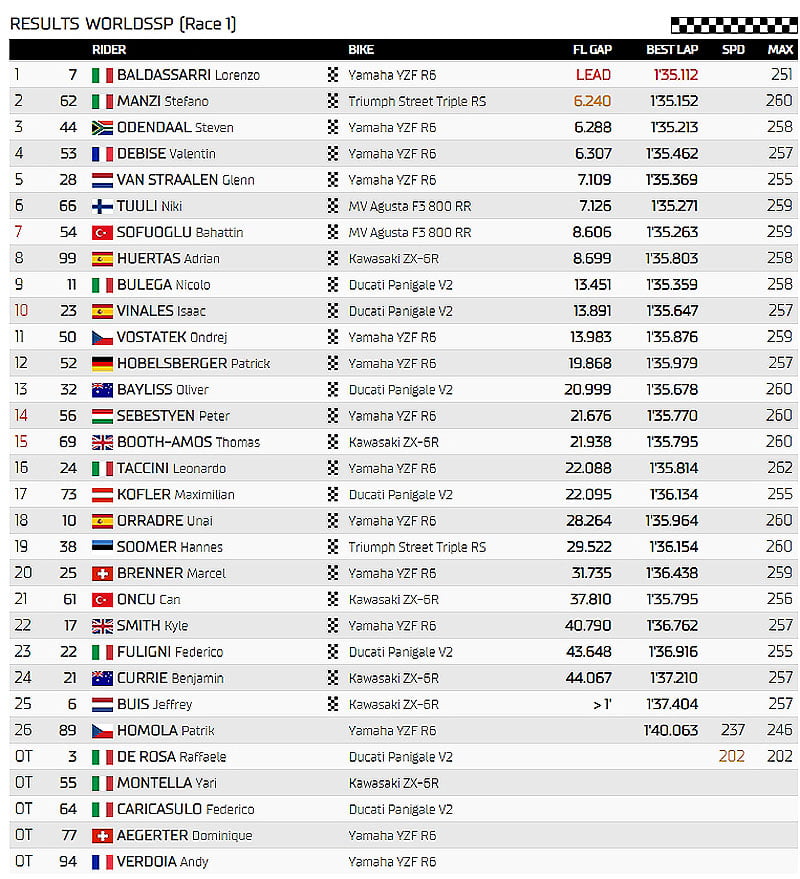 Rating: WorldSBK.com